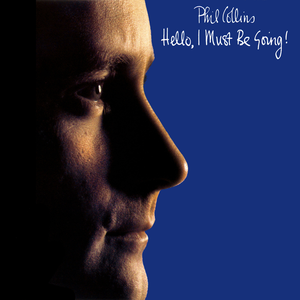 Album: Hello, I Must Be Going!
Artist: Phil Collins
Release Date:
Album Tracks:
Hello, I Must Be Going! is the second studio album by British singer-songwriter Phil Collins. It was originally released November 1, 1982 and a CD version released in 1988. This album's name comes from the Marx Brothers' song with the same name, featured in the movie Animal Crackers. One of the highlights of the album is the cover version of the Supremes hit "You Can't Hurry Love", which is one of Collins' best-known singles, although none of the other single releases from the album made any significant impact on the charts. Other notable tracks include the modern-jazz instrumental "The West Side", and "Thru These Walls", a dark voyeuristic song about a man listening through the wall to his neighbors partaking in unseemly nighttime activities -- or at least that's what he's imagining at the time. The more upbeat tracks serve as a preamble to the more commercial sound of the next album No Jacket Required. The album takes much of its inspiration from the problems in Collins' personal life, most notably the painful divorce he was going through at the time. This accounts for the dark and embittered tone on several of the tracks, including the single "I Don't Care Anymore". Co-produced with Hugh Padgham, the gated reverb sound of the drum kit is employed in full yet again, with a mixture of very dry drum sounds on tracks like "I Cannot Believe It's True" in contrast to the huge acoustics used on "Do You Know, Do You Care?". User-contributed text is available under the Creative Commons By-SA License; additional terms may apply.